Breakfast @ Rouge
Breakfast is available from 7.30 when Rouge opens, right through until 2.30pm.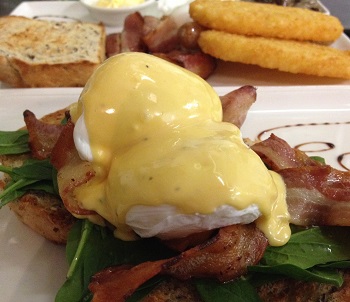 Everything on our breakfast menu is free range, and our bread is made in-house. Everything can be ordered as a gluten free option - we also make our own gluten free bread. (If ordering gluten free, we'll replace hash browns with something else).
Additionally, smaller portions are available of most meals.
Big Breakfast
Bacon, eggs, hashbrowns, sausage, and creamy mushrooms, with toast.
Eggs Benedict
With your choice of bacon, salmon, or a vegetarian option and Rouge's lime hollandaise.
French Toast
Made with house baked brioche and served with banana, bacon and maple syrup.
Mushrooms & Bacon on Toast
Our famous creamy mushrooms, served over streaky bacon on toast.
Bacon & Eggs – poached or scrambled
Bacon & Eggs on Rouge grain toast.
Macadamia Gold Muesli
Delicious gluten free muesli made right here in Cambridge, and served with yoghurt and fresh fruit.
Fruit Toast and Preserves
Rouge's own house baked fruity toast.