Breakfast @ Rouge
Breakfast is available from 7.30 when Rouge opens, right through until 2.30pm.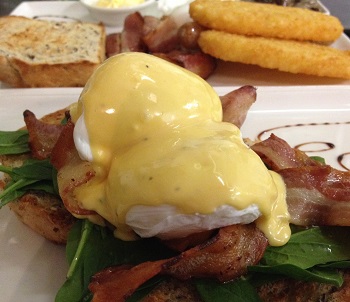 Everything on our breakfast menu is free range, and our bread is made in-house. Everything can be ordered as a gluten free option - we also make our own gluten free bread. (If ordering gluten free, we'll replace hash browns with something else).
Additionally, smaller portions are available of most meals.
Big Breakfast $20
Bacon, eggs, hashbrowns, sausage, and creamy mushrooms, with toast.
Eggs Benedict $17.50
With your choice of bacon, salmon, or a vegetarian option and Rouge's lime hollandaise.
French Toast $18
Made with house baked brioche and served with banana, bacon and maple syrup.
Mushrooms & Bacon on Toast $18.50
Our famous creamy mushrooms, served over streaky bacon on toast.
Bacon & Eggs – poached $13.50 or scrambled $14.50
Bacon & Eggs on Rouge grain toast.
Macadamia Gold Muesli $11.50
Delicious gluten free muesli made right here in Cambridge, and served with yoghurt and fresh fruit.
Fruit Toast and Preserves $8
Rouge's own house baked fruity toast.